Scholarship Luncheon Honors Recipients and Recognizes Donors
Awards and accolades
|
Posted Friday, August 16, 2019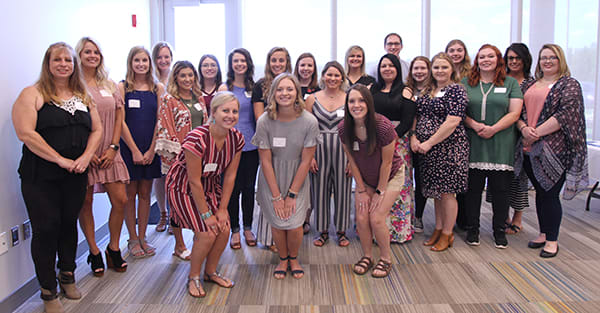 SoutheastHEALTH Foundation scholarship recipients and the individuals who are helping them earn degrees in the healthcare field were honored at a luncheon held recently at the Jackson Civic Center. The event celebrated the success of 24 students who received $47,200 in scholarship awards. Guest speaker was Dr. Steven Langdon, President of the Southeast Missouri Hospital College of Nursing and Health Sciences.
SoutheastHEALTH Foundation Executive Director Patti Ranzini said, "Because of the generosity of donors, our scholarship recipients are working to enter a field dedicated to helping others. Our scholarship programs not only make a difference to patients, but also to our communities, as scholars meet their academic goals and enter the healthcare work force."
Since 1962, nearly $1.5 million in scholarships has been awarded.
This year's recipients include:
Enrolled in Southeast Missouri Hospital College of Nursing and Health Sciences programs:
McKenzie Belt, Polly DuVal Kinder Scholarship
Malary Burger, L.P. Maxwell, MD, Scholarship
Ashely Ferrell, Hutson Family Scholarship
Kaitlin Hepner-Sauer, Ilena Aslin Scholarship
Sarah Hill, Jean Chapman, MD, Scholarship
Amy Jeffries, Karen Crites Henderickson, EdD, RN, NEA-BC Scholarship
Alexia New, Dorothy Kies Penzel Scholarship
Raena Perkey, O.D. Niswonger Scholarship
Hannah Sauceda, Sheila R. Caskey, PhD, Scholarship
Cassidy Sawyer, Hazel Harrison Strickler Scholarship
Brit Taylor, Margaret Foster Roberts Scholarship
Jade Toombs, Charlotte Black Sargent Scholarship
Katelyn Wall, Tom Welch Radiography Scholarship
Tara McCoy, US BankCorp Foundation Grant Scholarship
Cape Girardeau Career and Technology Center
Logan Middleton, Foundation Scholarship
Missouri State University
Lorilea Johnson, Nancy Ann Bray Scholarship
Southeast Missouri State University
Madyson Bastean, Hazel Harrison Strickler Scholarship
Courtney Beggs, Balsamo Family Scholarship
Keasha Hubbert, William and Martina Scott Scholarship
Madelyn Johnson, Margaret Foster Roberts Scholarship
Lauren Vowels, James W. Wente Scholarship
Carlee Williamson, Cape County Medical Alliance Scholarship
Ashley Yarbro, Ilena Aslin Scholarship
Three Rivers College
Emily Smallwood, Elda Haertling Scholarship